Gympanzees CEO Stephanie Wheen reflects on 2021, which has undoubtedly been Gympanzees biggest year…… yet! 
Looking back at 2021, I am incredible proud of what we've achieved in just one year. The team has expanded, we launched Project Home Appeal, a campaign to raise £2.2 million to open the first-ever permanent Gympanzees facility. We won a Queen's Award for Enterprise: Innovation, met the Royals, and delivered our first-ever Roadshow!
I am incredibly excited to embark on the next stage of this journey with the team. But first, I'd like to look back and acknowledge the strides we've made this year, the phenomenal support and the marvellous individuals who have helped us along the way….
Life in Lockdown
We started the year in lockdown, and it was during these early months locked away in our homes that our staff and volunteers were hard at work ensuring we could continue running our equipment lending service for families. We leant over 250 items out from January to March, so families could still get a taste of Gympanzees at home.
During this time, we saw an incredible generosity of spirit as a team of 11 volunteer seamstresses got to work creating protective covers for our kit!
Due to the restrictions, we couldn't deliver an Easter Pop Up for the second year in a row, but our team were already making plans for how we could bring the fun and magic of Gympanzees back in a covid-safe and accessible way….
Award-Winning Gympanzees
In April, we received the news that we'd won a Queen's Award for Enterprise: Innovation 2021. The Queens Awards are the most prestigious business awards in the UK, and we were beyond thrilled to have our innovative Pop Up facilities recognised!
In November, our COO, the lovely Fran, had the honour of attending a celebratory Royal Reception and met with HRH The Prince of Wales and several other members of the Royal Family.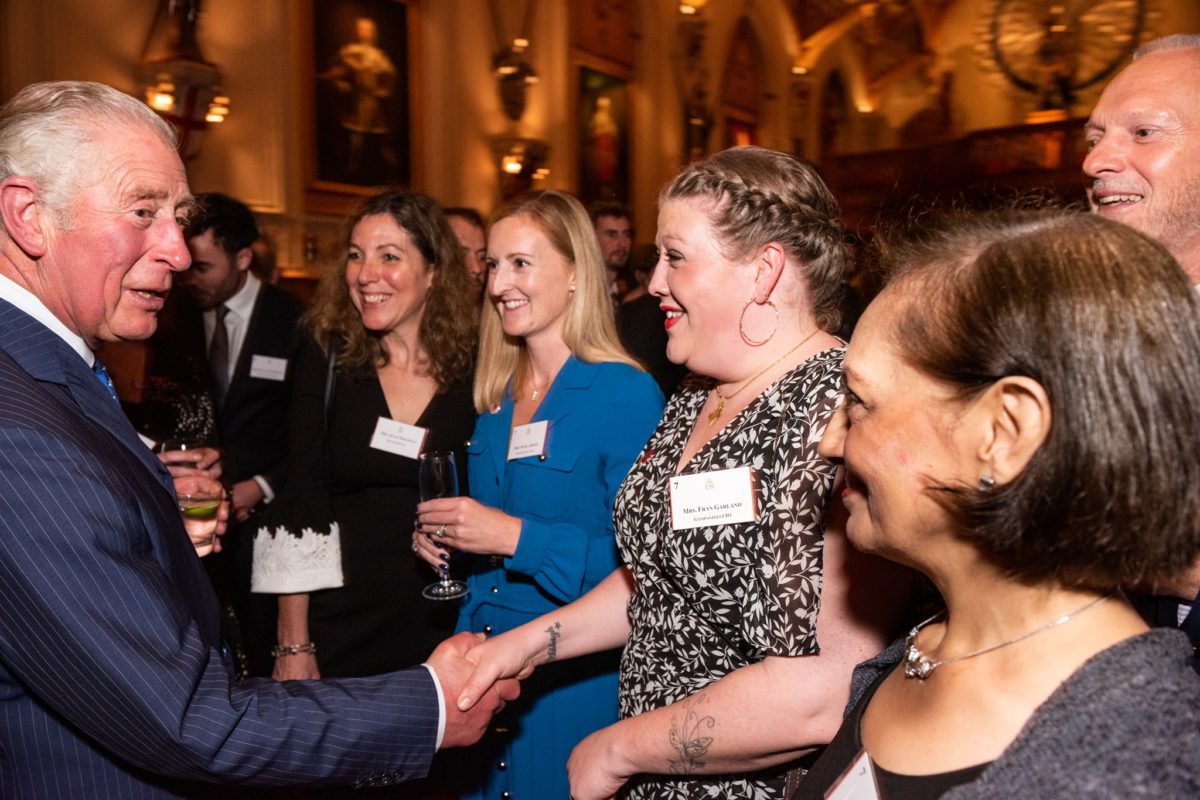 Gympanzees COO Fran Garland meeting HRH The Prince of Wales at a royal reception for Queens Award Winners at Windsor Castle.
A Phenomenal 3-Peaks

 
This year's 3 Peaks Challenge exceeded all our expectations! We had 47 walkers take on this mammoth challenge for Gympanzees. 23 miles walked, 3064 metres ascended, and 462 miles travelled, all within two days. It was a tough challenge, but we had a lot of laughs on the way, and there were so many inspiring stories from the weekend. Richard from Bristol took part to mark his 70th birthday and was part of the group that completed the challenge within 24 hours! Bristol Wanderers Rugby Club put on two buses full of walkers and raised a huge £13,000 on their own.
The team spirit amongst the walkers was incredible. The final fundraising total was £55,000, and we were blown away by the phenomenal efforts of those who took part!
Teddy – Football Sensation! 
During the Euro's this year, 8-year-old Teddy took on a 100-goal challenge for Gympanzees and raised over £1000! He completed his challenge on the night that England beat Germany 2-0, and a video capturing the moment was shared far and wide on social media. So much so, it caught the attention of local news. The Football Association got in touch with Gympanzees and asked if we could celebrate Teddy's achievement and fundraising efforts by presenting him with the Nationwide Respect flag, signed by footballing legends and celebrities. 
You can see a video of us surprising Teddy and him signing the flag here!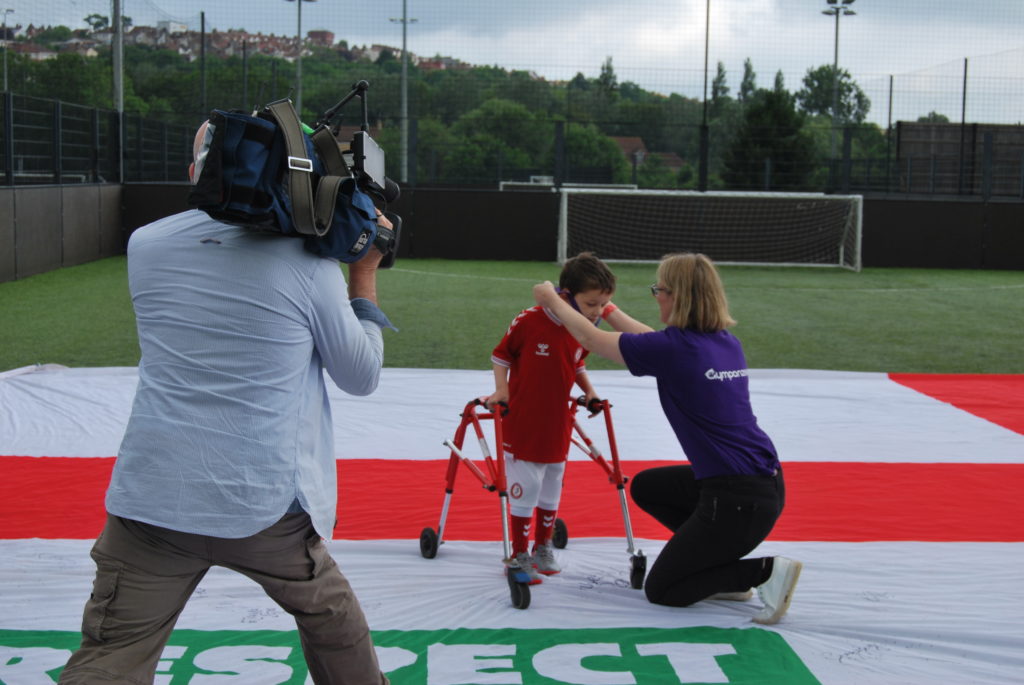 A Roadshow to Remember
After not delivering Pop-Ups during the pandemic, we wanted to reach more families than ever with our fun, inclusive sessions and innovative equipment. Therefore, we decided to take Gympanzees on the Road!
This had never been done before, but I knew our team could pull it off, and we could potentially reach more families who had been isolated during the last year. We visited Barton Hill, Bristol, Weston-Super-Mare, Newport, St Anne's Bristol, and Bath with a smaller version of our Pop Ups. It was wonderful to see our young visitors back enjoying 'stealthy health', being active and getting the sensory input they so love.
We had over 500 children, and young people visit. 51% of families were new to us and had never seen our Pop-Ups before!
Project Home Launched 
Our plans have always been to build for better and secure a permanent home for Gympanzees, a play, exercise and social facility for children and young people with disabilities. In September, we launched Project Home Appeal to help that dream become a reality.
We've got a big task on our hands, to raise the £2.2 million needed to secure a building and fill it with specialist rooms and fantastic inclusive and accessible sensory and exercise equipment.
Our facility is going to be remark-ABLE! It will be founded upon physiotherapy and occupational therapy principles and provide families with a fun, welcoming, non-judgemental environment. A place where the children can get the physical benefits of exercise and the sensory stimulation they need whilst parents meet and chat with others who understand their world. Explore our plans here!
There are 66,000 children and young people with a disability living within an hour of Bristol. 77% of them cannot access regular leisure facilities, so they can't play, exercise, and socialise in the same way as their peers. As part of our recent Christmas Crowdfunder, we spoke to parent Dawn about what a permanent Gympanzees facility would mean for her son AJ and their family.  
We're on the telly! 
Following the launch of Project Home, I was interviewed by ITV News West Country, alongside parent Emma, who has been coming to Gympanzees with her daughter Isabella from the beginning. Emma did a fantastic job explaining how we've supported them as a family and what a permanent Gympanzees would mean to them! Watching you couldn't help getting emotional! You can watch the full news item here. 
Fundraising Superstar Jesse  
We have already seen some incredible fundraising efforts for Project Home Appeal. In October, we saw two-year-old fundraising superstar Jesse walk the Clifton Suspension Bridge in aid of Gympanzees. If you missed the video, you can find it here.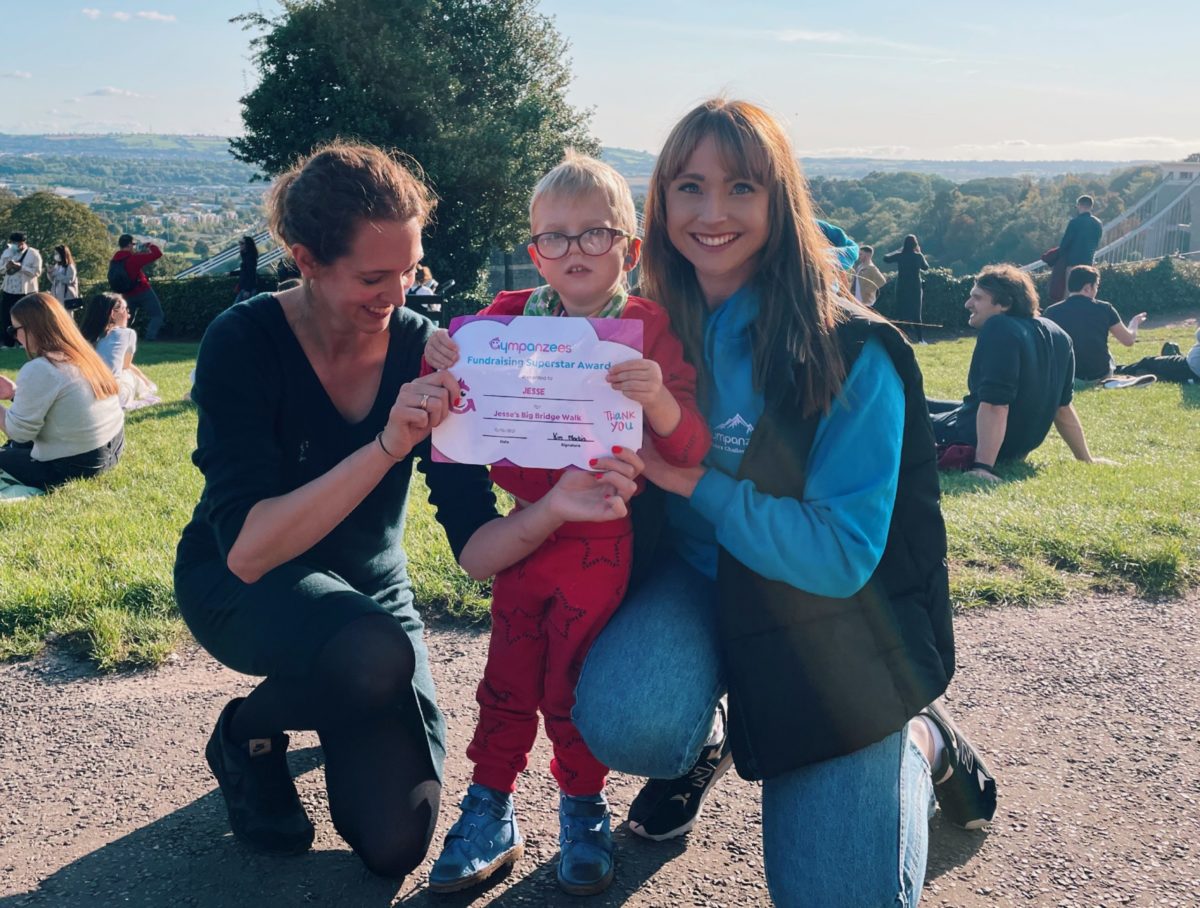 Champions Scheme Launched 
It's been great to see our Champions scheme launched for businesses and individuals to get involved, support Gympanzees from the start and come with us on our journey to a permanent facility in Bristol. We've already had companies and individuals sign up, and we are thrilled to have their support and backing.  
The team has grown 
Our team has grown in 2021, with five new permanent members of staff; Kimberley and Leila in the marketing team, Steph and Lizzie working on grants and trusts in the development team and Emily joining us as a personal assistant. It's been fantastic to see the team expand and create a solid foundation ahead of our ambitious plans for 2022. 
 We have also gained three fantastic trustees to our already wonderful team. Mike Beesley, Luigi De Luca and Jonnie Galvin-Wright bring a plethora of skills and years of valuable experience – we are so lucky to have them on board!…..  
Our service delivery and property committee have continued to support our goals, gaining new members, and working hard. We have also just had the first meeting of our fundraising and events committee! It is very humbling to have so many skilled and enthusiastic people volunteering to help us achieve our goals. 
Our amazing volunteers 
We have had 9 volunteers helping with Lending Library deliveries this year and 23 volunteers who helped us deliver the Roadshow. I want to thank these incredible individuals for giving up their time to support Gympanzees. Without them, we couldn't do what we do!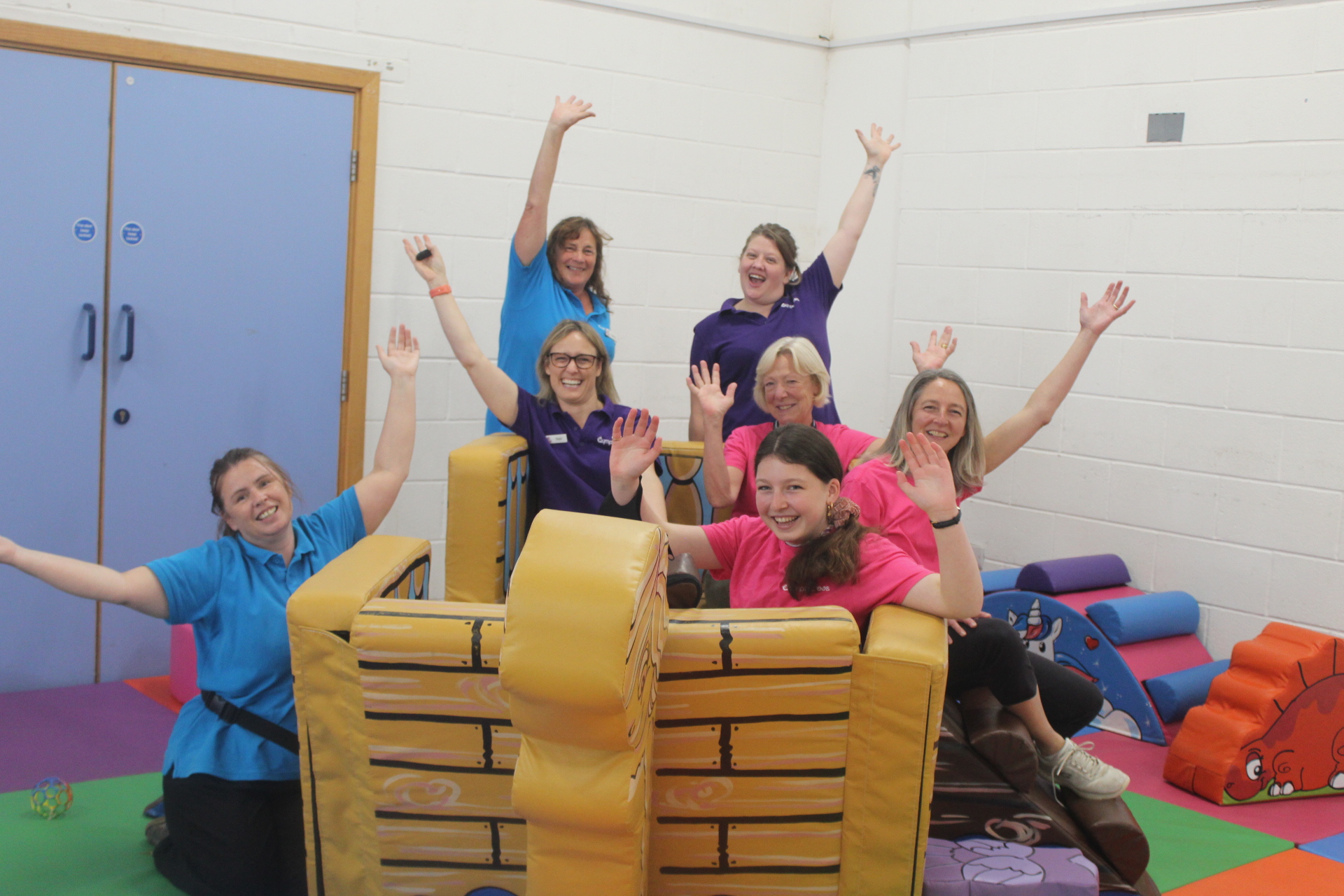 Partnerships and Collaborations  
We continue to work and collaborate with external agencies. This year, we've received support from the brilliant Asking Bristol, through close friend of Gympanzees, John Manley. They were able to put us in touch with the University of Bristol, helping us with our IT and plans for the main facility. We were also put in touch with Enterprise Van Hire through Asking Bristol, who kindly donated a van for our Roadshow. 
Ahead of the launch of our Project Home campaign, we have worked with some fantastic creatives, a brilliant graphic designer, Launa Harries and the very talented illustrator Sam Church. 
We have also continued our great working partnership with Nic at Individualise. Nic supports us with our website and helped us with a significant overhaul of the website design and structure this year, ahead of our next fundraising stage for Project Home Appeal!
A final thank you
 Wow, it really has been a remarkable year. From myself and the team here at Gympanzees, thank you for all your support in 2021. We can't wait for 2022, the return of our Pop Ups, and nearing our dream of opening our permanent Gympanzees home here in Bristol. 
Merry Christmas and Happy New Year! 
Support Gympanzees Christmas Crowdfunder
Help us take our next step towards a permanent Gympanzees. A world-class play, exercise & social facility for children with disabilities. Our Crowdfunder campaign this Christmas offers rewards in return for your donation.