We spoke to Liccy, a regular Pop Up staff member, to find out what it is like to see the Pop Up 'behind the scenes' having previously visited with her brother J.
Tell us about the first time you visited Gympanzees Pop Up.
Liccy: When the Pop Up's first started in 2018, we accessed them as a whole family. I remember the staff being so welcoming and it made such a difference to go somewhere we could all access, not having to stress about whether it was going to be wheelchair accessible.
I love seeing my brother J at the Pop Ups, it's somewhere he feels safe and somewhere he can just be himself. He's a wheelchair user and uses a kaye walker to walk short distances. Gympanzees is a place he can use as it's flat and accessible which he loves as it's encouraging his independence!
What is J's favourite room at the Pop Up?
Liccy: His favourite room is the gym and to me, that's just amazing, he hates having physio and regular exercises, but loves using the equipment in the gym and trying to beat all the latest records! My brother is happy whenever he comes to Gympanzees, he loves all aspects of it and says everyone is so friendly.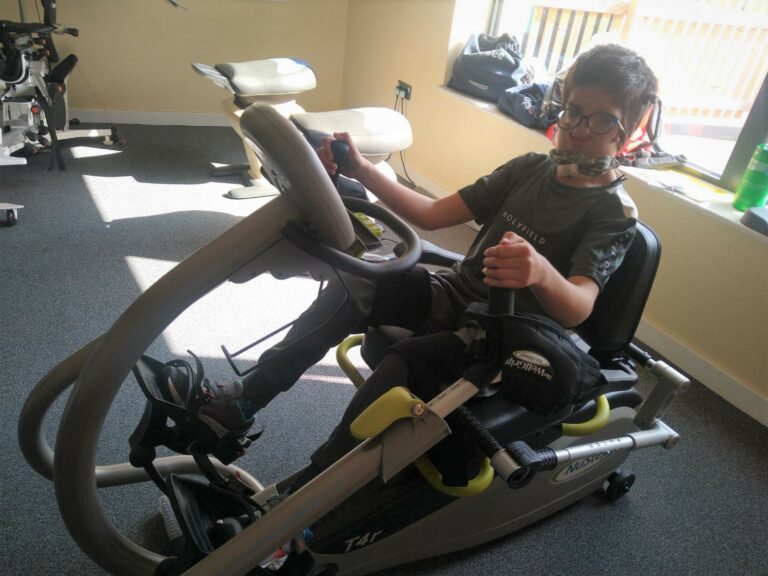 And how does it feel to be one of the Pop Up staff
?
Liccy: I've been visiting the Pop Ups with my brother since the beginning, and since I have now worked a few of them I have seen Gympanzees from a different perspective and I can honestly say I think it's such an incredible place to work and visit!
As a member of staff, you get to meet so many families who have been on their own journey and you feel like you're part of that journey in a small way. I really enjoy chatting to the different families who use the Pop Up, and seeing how much easier it makes their holidays. We follow the lead of the children and families, letting them decide what they would like to do, and where they would like to explore, and we are on hand to facilitate that exploration, help with hoisting, and make sure everyone is safe.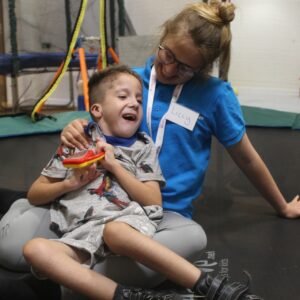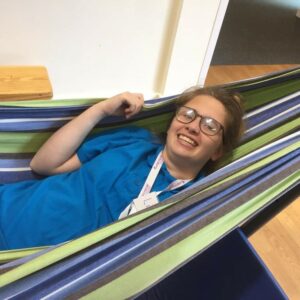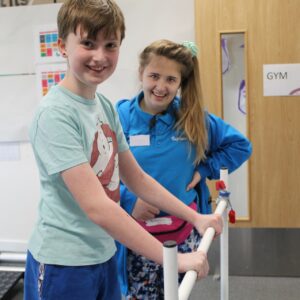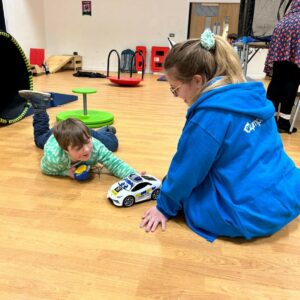 What is the most rewarding thing about being a part of Gympanzees Pop Up team
?
Liccy: One of the biggest rewards you can hear as a member of Pop Ups staff is a parent saying, 'Oh they've never done that before', being part of those amazing firsts and seeing a child's development first-hand is such an incredible feeling. This Easter Pop Up we had a family travel over 6 hours to visit and that honestly made my week hearing that! The children got to try the Innowalk, which is an incredible piece of kit, and they told us what a brilliant time they'd had.
Being part of the Pop Up team, we all come from such different backgrounds and have different skills, but we all come together as we truly believe in the vision for a permanent home!
And finally, what would it mean to you as a family to have permanent Gympanzees home? 
Liccy: Having a permanent Gympanzees would mean the world to me and my family, we'd have somewhere we can go on a regular basis. J would have a safe space to go exercise and meet his friends. It would be life-changing to be able to just get up and go whenever we want. It can't come soon enough!