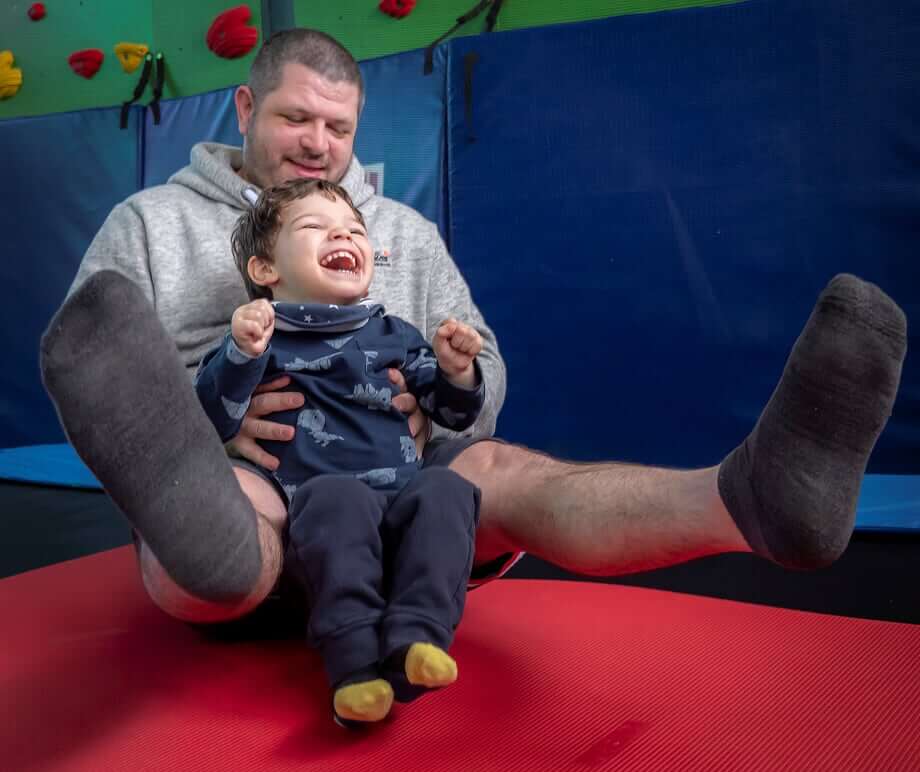 Fitness through play
Inclusive design
Monkeying around together
Become a monthly donor.
Put us forward as your company's charity of the year.
Have a fundraiser:
- Bake sale
- Coffee morning
- Dinner or cinema night at your place, £10 /person
Set yourself a challenge and raise sponsorship.
Every disabled child in the UK enjoys a life filled with exercise, play and friendship.
People first
Leisure time
Adventure
Your community
To deliver multiple fully inclusive leisure facilities that are easily accessible for disabled children, young people and their families; meeting exercise, therapeutic and social needs.
There are 1 million disabled children and young people in the UK
84% of families with a disabled child can't access regular leisure and their health and well-being are suffering as a result. 72% of parents suffer from mental health difficulties as a result of isolation.
Gympanzees is an award-winning charity and our vision is that every disabled child and young person in the UK has access to play, friendship and exercise.
We wanted to bring a bit of Gympanzees inclusive fun into your homes and help you and your family play and exercise. 
From exercise videos, activities, ideas, Zoom sessions with a qualified therapist and even borrowing specialist play and exercise equipment – we're here to help you with Our Home. 
We're excited to announce Our Lending Library is now live!
Borrow our specialist play and exercise equipment specific for free and tailored to your child's needs. Equipment will be delivered to your home.
Inclusive Leisure Facility
We plan to achieve this by opening the UK's first, fully inclusive leisure facilities around the UK. The first will be in the Bristol area and will cater for the play, exercise and social needs of the 58,000 children and young people, from 0-25 years old, with disabilities who live in the area. 
Crowdfunding
This first permanent facility will take several years to fund and build so, in the meantime, we are running pop up Gympanzees facilities in the holidays to go some way to addressing the problem and to test our concept until the main permanent facility is built.
Pop Up Leisure Facility
We exceeded our initial fundraising goal and so were able to put on the first pop up Leisure Facility in August 2018. This was a huge success, demonstrating that there is the need and proving our concept for the main permanent facility. We had over 1,100 children booked over the 4 weeks with people travelling as far as from Braunton (North Devon), Reading and Worcester – with one family making a holiday of it and staying in a hotel. 
Since then we have run two more successful pop ups in Bristol in the Easter and Summer of 2019. 
Easter Pop Up 2020 CANCELLED
Due to the current uncertainty surrounding Coronavirus, we have made the very difficult decision to cancel our Easter Pop Up event.
As many of you will know, our Pop Up events help 1,000s of children and young people with disabilities – and their families – exercise, play and build friendships.
We know many of our families will be extremely disappointed that the Pop Up has been cancelled, as are we. We put so much effort into the Pop Ups to ensure our families have the best experience possible. But we simply can not take the risk and the health and safety of our families is our paramount concern.
If you have booked a session with us at the Easter Pop Up, you will shortly receive a full refund for the sessions you have booked on to.
If you have any further questions, please contact us on info@gympanzees.org and we will get back to you as soon as possible.
We look forward to welcoming you to our Move It My Way event and at the Summer Pop Up.
Thanks again for your understanding.
Team Gympanzees
We now plan to run Pop Ups every Easter and Summer holidays until the main facility is built.
We now have the evidence to look for premises and for the capital funding for the main Gympanzees Leisure Facility.
"We absolutely loved the pop up gym, genius idea - wish it was available all the time. Managed a full 50 min tutor session afterwards...that's the power of sensory integration - usually 15 min max!"
Brilliant session! Both my my children were able to play. And play with each other. Staff are great. Positive! And everything is possible! Xx
"Amazing place! My 6 month twins absolutely loved it and fell asleep straight after- brilliant! 🙂 An opportunity to meet others in similar situations as you. Very friendly and welcoming staff, clean environment and facilities, easy parking, breast feeding friendly, stimulating for young people and overall excellent.👌🏽"
"Jaiden who is 6 and I visited our 1st session today at Gympanzees, it was absolutely brilliant and Jaiden loved it. It was very relaxed for both of us and everyone was very understanding of all the children's needs. I would fully recommend Gympanzees as there is nowhere else like it!"
"Today my 6yr old son and I attended the first Pop-up Gympanzee Activity Centre session. In my mind I knew what to expect, I'd watched all the videos and followed all the updates but I still wasn't prepared for the amazing feeling I came away with."
"This was our 1st visit with our 2 boys and it was fantastic, both boys had great fun, there is so much for them to do. We will be coming back every week! I hope this can become permanent as it is very much needed as it is the only place to cater for a full range of disabilities and the people are lovely."