11 deep pressure exercises that calm and build strength
Children on the Autistic Spectrum often struggle with anxiety and frustration. Triggers can include sensory processing issues, communication difficulties, transitions or routine changes. Sometimes these problems can completely overwhelm our child, leading to a meltdown or shutdown.
Suppose we can tune into our child's heightened state of arousal (i.e. increased stress levels) and respond accordingly. In that case, we may be able to calm their nervous system and prevent the fight, flight or freeze response they experience when in extreme distress.
One way we can do this is to apply deep pressure. Deep pressure provides our child with proprioceptive input, which can help regulate their nervous and sensory systems.
Using our own body as a tool is the most effective way of applying deep pressure. It's also practical as we don't need any equipment to hand.
The simplest technique – and the best in the heat of the moment – is to push down on our child's shoulders firmly. They may also benefit from having their arms and torso squeezed.
If our child is feeling more receptive (so not at the absolute brink of a meltdown), we can also encourage them to try one of the eleven ideas below. These exercises are good because our child can learn to do them with minimal carer input. This is useful if they don't like being touched by others, and it also arms them with new tools for self-regulation.
The exercises also have the benefit of improving body awareness and building strength in the arms and hands. This will help our child develop the manipulation and dexterity skills they need to undertake daily living activities, like writing, dressing and using tools like cutlery and scissors.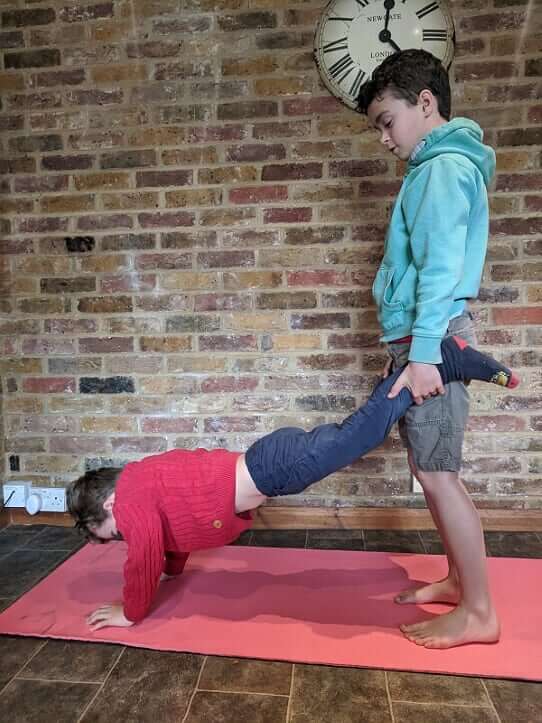 If our child has an under-responsive tactile system, they may benefit from some preparation steps to help wake their system and build their awareness of their arms and hands.
Give the arm some firm squeezes from their shoulders down to the tips of their fingers.

Use a sensory brush along their skin using fast, firm strokes.

Rub the arms and each finger with a flannel that is wet, dry, warm or cold will add an extra layer to the sensory experience.

Play clapping games.

A vibrating massager also helps to alert, and our child can potentially be in charge of controlling it.
Fun arm, hand, shoulder and elbow strengthening exercises
Here are a selection of suitable videos
Make your own stress balls
Thank you for visiting Gympanzees' website. All information provided by Gympanzees is of general nature and for educational / entertainment purposes. It is up to you as the parent or family member to judge what is appropriate and safe for your child. No information provided by Gympanzees should replace any professional information and advice that you have been given and speak to your therapist or doctor if you are unsure of anything. Should you use any of the information provided by Gympanzees, you do so at your own risk and hold Gympanzees harmless from any and all losses, liabilities, injuries or damages resulting from any and all claims.