10 Core Stability Exercises to Improve Movement Skills in Autism
Many children on the Autistic Spectrum have movement coordination difficulties. 
Our child might be labelled as "clumsy", bump into people/objects, drape themselves over furniture, and tire quickly when holding body positions such as sitting. 
Often, the reason for this can be a musculature weakness of the core – the muscles in their back and abdominals – which impacts on balance and posture. 
As a result, our child may tire quickly when trying to hold a position and we may notice that they move constantly, fidget and prop their head up when at the table. 
Our child might also struggle to use a scooter or ride a bike as a strong core is required. 
The core also impacts fine motor skills such as using cutlery, handwriting and cutting with scissors. If our midsection isn't strong, it is very difficult for our arms, hands and fingers to work in a coordinated fashion.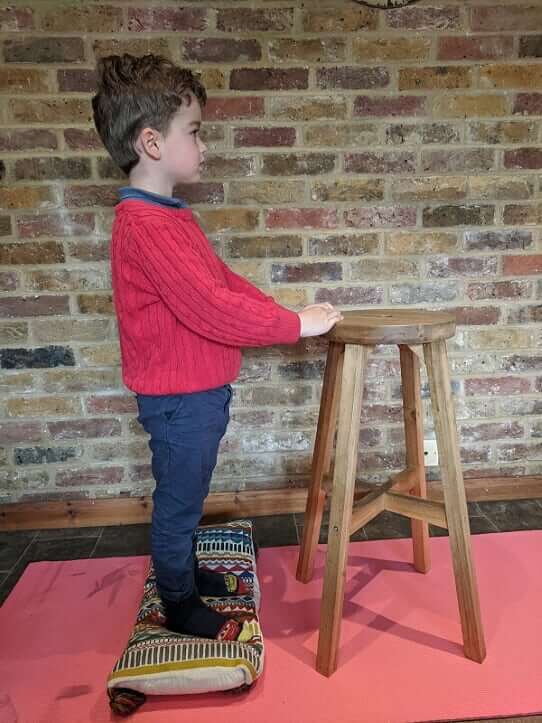 A good core allows us to balance in different positions. It enables us to stay still and balanced while our arms and legs work (e.g. walking) or to stay upright when we are on a moving surface (e.g. a bus). Our bodies are constantly seeking balance so having a good core allows our child to concentrate better as they are able to stay still.
The added benefit of working on the core muscles is that the weight-bearing exercises involve deep pressure, which not only increase body awareness but also provide calming proprioceptive input. You may find that after engaging in 5-10 minutes of these activities, your child shows an increased ability to focus and attend to a task.
Below we share some core stability exercises to work through with your child. Go down the list and find the first level that they would find a little difficult. This is your starting point. Enjoy that activity until they can manage it well. If they can't manage a certain activity, move them back a section or move onto the next section. You can be practicing several activities in the same session to be more effective.

Make sure your child is successful in their game as this will motivate them to continue. As you push them to get to the next level, they should be able to manage a few of their attempts to keep motivated – even if they are not successful at all of them.

Remember to praise the effort made rather than the result achieved. This will motivate your child to persevere with an activity and not be put off if they don't succeed at first.
Here are some fun and exciting activities to try at home to improve your child's core stability
Here are a selection of suitable videos
Thank you for visiting Gympanzees' website. All information provided by Gympanzees is of general nature and for educational / entertainment purposes. It is up to you as the parent or family member to judge what is appropriate and safe for your child. No information provided by Gympanzees should replace any professional information and advice that you have been given and speak to your therapist or doctor if you are unsure of anything. Should you use any of the information provided by Gympanzees, you do so at your own risk and hold Gympanzees harmless from any and all losses, liabilities, injuries or damages resulting from any and all claims.