10 Core Stability Exercises for Your Baby With Down Syndrome - Tummy Time to Crawling
Core stability refers to the strength in your tummy and back and the amount of control and balance between the two sets of muscles. Core stability is built up from when we are born and developed through the first few years of life as children move around and explore their environment. To begin with it allows babies to roll, sit and then crawl and as they get older it allows for standing, walking and climbing so is a crucial area to work on.
Most children with Down Syndrome will have less core stability when they are born and will find it harder to build up their strength in their first year or two due to their low tone. The tummy in particular can be very weak. It is therefore a really important area to work on from when they are a baby. The benefits of strengthening the core at an early stage will affect many other areas of their lives including playing, communicating and exploring the world around them.
Many children with Down Syndrome will try to avoid rotation as it reduces their tone even more and makes them feel more unstable. They may move in fairly two dimensional ways (forward and back or side to side) but avoid rotation. Developing their rotation muscles is key in achieving full core stability.
This page has ideas, information and activities to help develop our Down Syndrome child's core stability. We also have some more advanced core activities for children who can stand.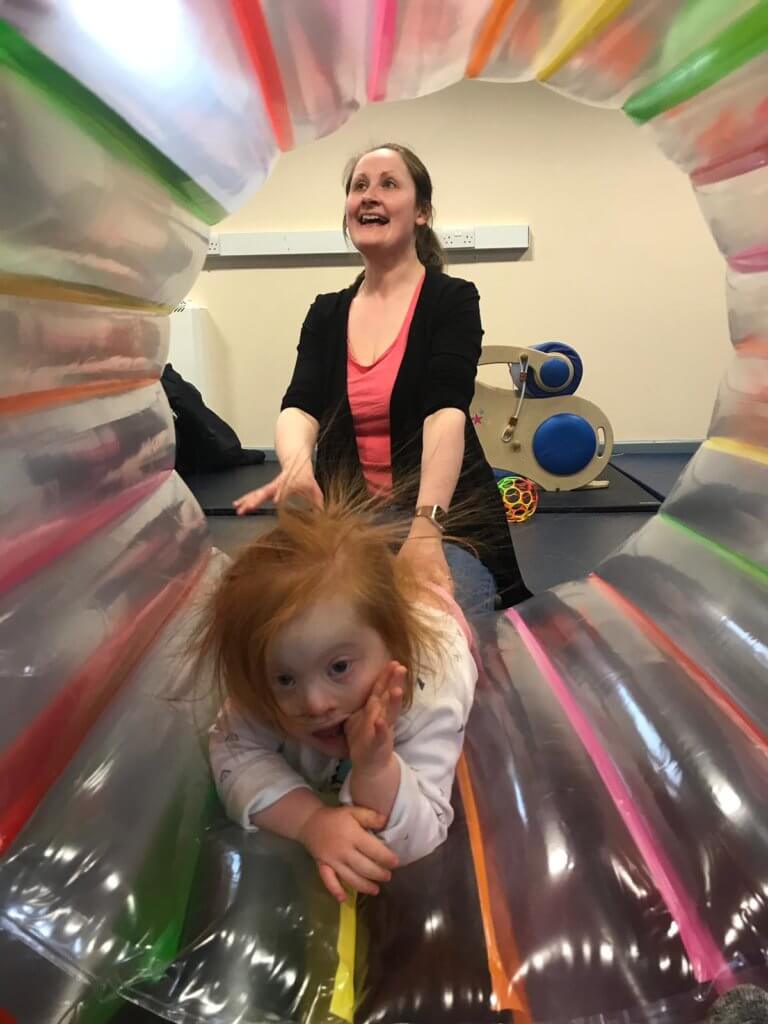 Core muscle and balance exercises
Go down the list and find the first level that they would struggle with. This is your starting point. Work on that skill until they can manage it. If they can't manage a certain exercise, move them back a section or move onto the next section. You can be practising several exercises/ activities at the same time to be more effective. 
Thank you for visiting Gympanzees' website. All information provided by Gympanzees is of general nature and for educational / entertainment purposes. It is up to you as the parent or family member to judge what is appropriate and safe for your child. No information provided by Gympanzees should replace any professional information and advice that you have been given and speak to your therapist or doctor if you are unsure of anything. Should you use any of the information provided by Gympanzees, you do so at your own risk and hold Gympanzees harmless from any and all losses, liabilities, injuries or damages resulting from any and all claims.