12 More Advanced Core Stability Exercises for Children with Cerebral Palsy
Core stability refers to the strength in the muscles of the abdominals and back, and the amount of control and balance between them. Our core supports our arms and legs, and we need stability in it to do a range of physical tasks. 
Many children with Cerebral Palsy will have a weak core – either because of high tone, low tone or a lack of movement opportunities. 
Here, we share some more activities to help our children develop their core strength and stability. If these exercises feel too challenging, we also have an introductory core series.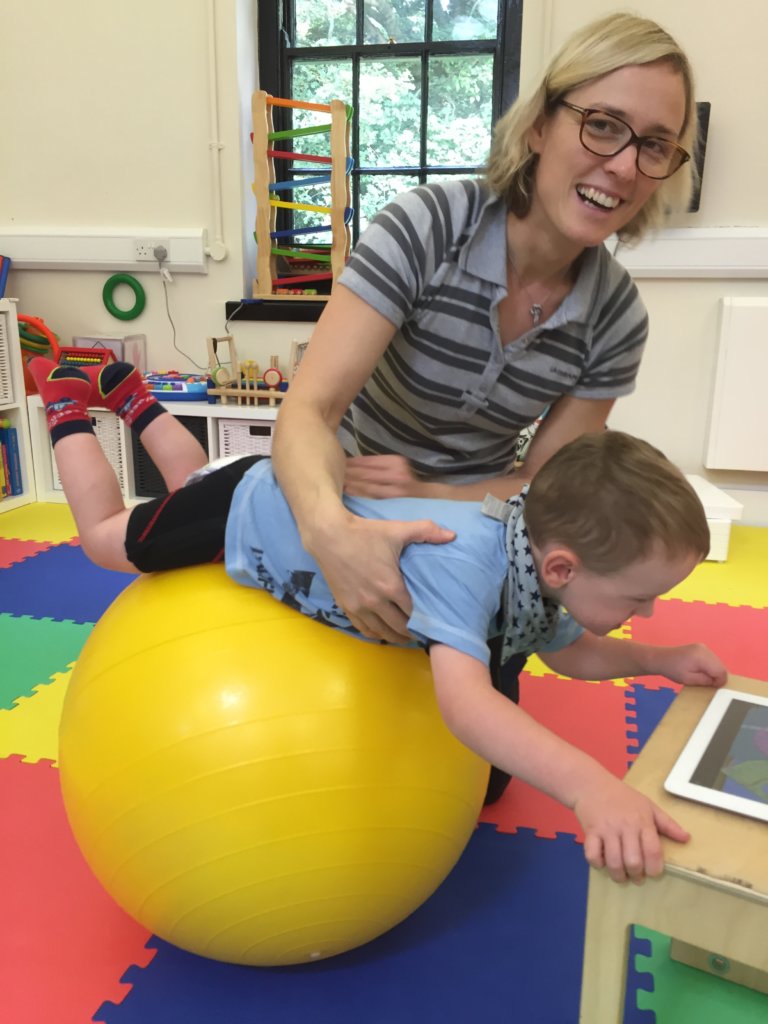 Core stability is key to the workings of our whole body. If we have good core stability, our arms and legs will work better as they are attached to a stable base.

Fine and gross motor (movement) skills are easier to master if we have a strong core.

A stable core allows us to balance in different positions. It enables us to stay still and balanced while our arms and legs work (e.g. walking) or to stay upright when we are on a moving surface (e.g. a bus).

Because our bodies are constantly seeking balance, having a good core increases our ability to focus and concentrate. It is easier to attend to a task if we are able to sit still.
If your child's muscles are weak, if one muscle is weaker than the other, or if the messages the brain sends to the muscles tells them to work too hard or not hard enough (high tone/low tone), then it is possible that your child will have poor core stability, affecting their other movement skills. This is very common with Cerebral Palsy as it is rare for the core to be completely unaffected.

A child who is mobile on the floor may have some core stability but move in fairly two dimensional ways (forward and back or side to side but not much rotation/twisting). Without rotation, it is not possible to have full core stability as rotation is a core element of full control. 

A good core is a great for everyone so working through these activities will be helpful even if your child doesn't display any particular difficulties.
Here are some core stability exercises to work through with your child. Go down the list and find the first level that they would find a little difficult. This is your starting point. Enjoy that activity until they can manage it well. If they can't manage a certain activity, move them back a section or move onto the next section. You can be practicing several exercises/ activities in the same session to be more effective.

Make sure your child is successful in their game as this will motivate them to continue. As you push them to get to the next level, they should be able to manage a few of their attempts to keep motivated – even if they are not successful at all of them.

Remember to praise the effort made rather than the result achieved. This will motivate your child to persevere with an activity and not be put off if they don't succeed at first. 
Advanced exercises to strengthen and refine core stability
Here are a selection of suitable videos
Obstacle Course on the floor
Thank you for visiting Gympanzees' website. All information provided by Gympanzees is of general nature and for educational / entertainment purposes. It is up to you as the parent or family member to judge what is appropriate and safe for your child. No information provided by Gympanzees should replace any professional information and advice that you have been given and speak to your therapist or doctor if you are unsure of anything. Should you use any of the information provided by Gympanzees, you do so at your own risk and hold Gympanzees harmless from any and all losses, liabilities, injuries or damages resulting from any and all claims.