Massage and autistic children
Massage can be hugely beneficial for children on the autistic spectrum. 
Massage provides proprioceptive input, which can help regulate our child's sensory system. It is also a lovely non-verbal way to promote bonding and connection.
Some autistic children and young people are sensitive to touch, making massage challenging! In these cases, it is very important to respect our child's boundaries; we should never force anything unessential on our child that they actively dislike.
However, with some gentle perseverance, it is possible to find a way to massage a touch-avoidant child. Some children hate light touch but really enjoy firm touch and deep pressure. Some children don't like being touched with hands but like the feeling of an object like a brush or a roller on their skin. If we explore touch in a fun, no-pressure way, we are more likely to be successful.
Because our children enjoy activities that are familiar and predictable, building massage into our daily routine can also be helpful.
Massage before bed can be a great way to help slow down the nervous system in preparation for sleep. We can enhance the experience by adding other sensory elements our child enjoys, like a darkened room, colourful lights or projections on the ceiling, soft music or ambient noise, a pleasurable scent from essential oils (lavender and vetiver are good choices), or a fluffy blanket to lie on.
The idea of learning to massage can be daunting, but it doesn't need to be complicated. There is lots of great information out there to help us get started, and we share some of this below.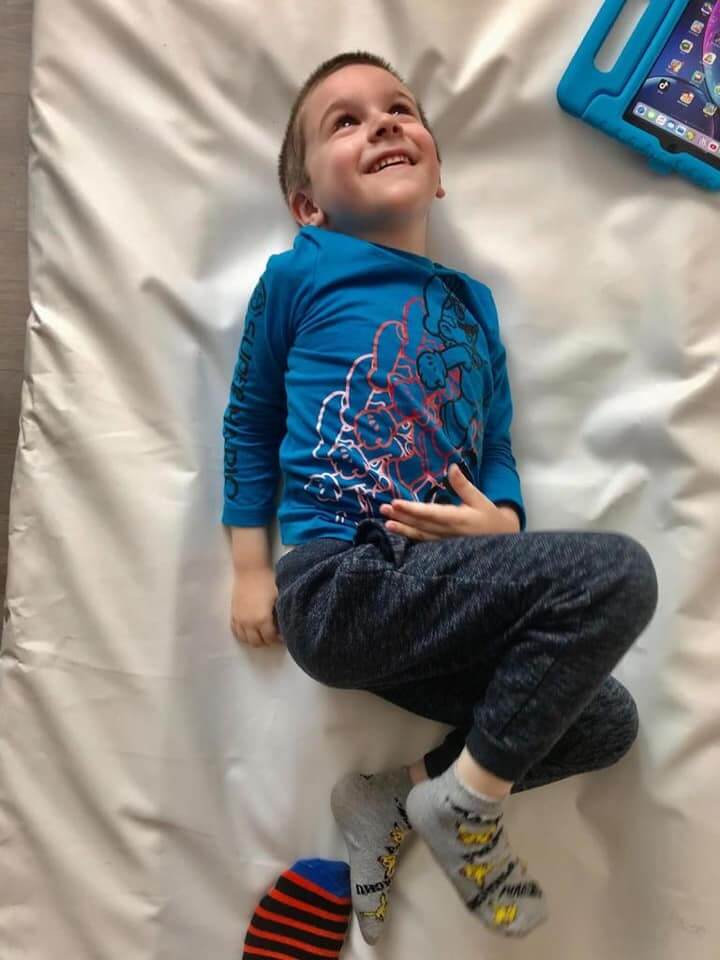 Child/Caregiver Bonding
Massage offers a lovely opportunity for bonding. Gentle, relaxing touch is a great non-verbal way to communicate tenderness and care, and build the connection between child and caregiver. It promotes secure attachment, releases feel-good hormones and helps our child feel loved and cherished.
Wakes up bodies
For children who are not very sensitive (hyposensitive) to touch, massage can help wake up their bodies and muscles – improving coordination and movement skills as their body awareness grows.
Reduces Sensitivities
For children who are tactile defensive, massage (if tolerated) can help to desensitise the skin. Firm touch can be preferable to gentle, while oil can make massage more comfortable. If your child doesn't like hands, you can try using other implements: brushes, rollers or vibration devices, for example. It is important to respect your child's boundaries, so if they resist or are unhappy, stop the massage and try again another day.
Calming and Regulating
Massage helps regulate the nervous system. For children who are always on the go with lots of energy, massage can be calming, encourage stillness and help with concentration. An active child might not be able to remain still for an entire body massage, but even working on a single limb can be helpful.
Heightening Physical Awareness
Communication is really important. If your child can understand language, talk to them throughout the massage, telling them what you are doing. This is a great way to teach them about their bodies and help heighten their awareness of what they are feeling. Better body knowledge helps with movement and coordination, while the loving touch of massage can be helpful for self esteem.
More fun video resources for children with Autism
Massaging whilst hand washing
Thank you for visiting Gympanzees' website. All information provided by Gympanzees is of general nature and for educational / entertainment purposes. It is up to you as the parent or family member to judge what is appropriate and safe for your child. No information provided by Gympanzees should replace any professional information and advice that you have been given and speak to your therapist or doctor if you are unsure of anything. Should you use any of the information provided by Gympanzees, you do so at your own risk and hold Gympanzees harmless from any and all losses, liabilities, injuries or damages resulting from any and all claims.