10 Calming and Regulating Activities for ADHD
Physical exercise has been proven to be hugely helpful for children with ADHD, boosting mood and brain function.  Movement can also have a calming effect through activities that provide strong proprioceptive input that can help regulate our child's sensory system.
Different children will benefit from undertaking proprioceptive activities at different times. Some children with ADHD will need a burst of physical activity regularly throughout the day. Others will benefit from a movement break when they are bored or have lost interest or focus on tasks that need their attention and focus. 
Having a physical task to do before a particular occasion can also be helpful for our child, particularly if it's something they struggle with: for example before sitting up to the table for a meal, getting dressed, or waiting for others.
On this page we share 10 fun regulating activities we can try with our children at home. Some are more obviously physical, while others are done seated and focus on using the muscles in the arms and the hands. If our child has issues with sitting (as many children with ADHD do), one of our fidget fixers may help.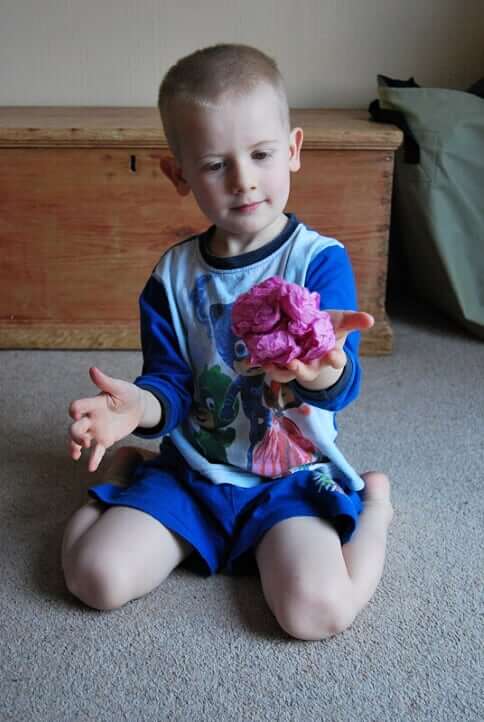 Before trying these exercises, take a minute to prepare your child. To wake up their muscles, squeeze their hands, tips of their fingers and their arms and shoulders. You could also use a brush along their skin, or a vibrating massager. All of these can help to make your child more aware of their body which can then help them be more accurate and effective in their movements.

If your child has any tightness in their arm or hands, give them a good stretch before these activities to enable them to be as successful as possible.

Remember to praise the effort undertaken rather than the result achieved. This motivates the child to keep putting in effort and not be put off if they don't succeed at first.
Fun Shoulder and Elbow Strengthening Exercises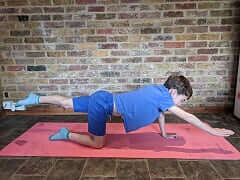 This exercise works well coupled with a focus on breathing control. Perhaps suggest holding each posture for five slow breaths. Some children respond to being competitive, by holding a pose for a specific period of time.
On hands and knees: reach one arm straight out in front in the air, like Superman! You can challenge the child to balance a beanbag or soft toy on the back of their hand to keep it up. Try and hold for one minute.

Put arm down and lift one leg up straight out behind. Try and hold this for one minute.

See if your child can hold an opposite arm and leg out at the same time and hold it for one minute? This will challenge their shoulder, elbow and hand stability muscles.

Try the other side.
Hold your child by their hips with their legs straddling you and their hands on the floor. Move around the floor picking up objects for as far as you can go.

Move your hands down to your child's knees and walk around the room – picking up objects or playing a matching game or skittles.

If you can, hold your child by their ankles. Make sure they keep their bottom in the air and don't hang their tummy down. Again, a game can make this more entertaining.

As your child gets stronger you could try to get from one end of the house to the other – even trying going up any steps or the stairs.

You could also make an obstacle course to go around or over.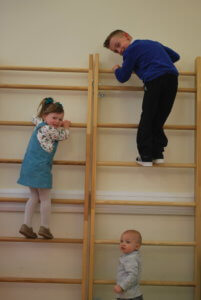 Any climbing provides resistance and strong proprioceptive input, especially through the arms and hands. This includes climbing on furniture or up the stairs. The more weight which goes through the arms, the better.

The most challenging activity is hanging on a bar or going along monkey bars. Commercially available "chin up" or gymnastic bars might be an option for you to try. Otherwise, if it's safe try getting your child to hang off a door or cabin bed frame – supervision is required here.
Wrist, Hand and Arm Strengthening Activities
Here are a selection of suitable videos
Make your Own Stress Balls
Thank you for visiting Gympanzees' website. All information provided by Gympanzees is of general nature and for educational / entertainment purposes. It is up to you as the parent or family member to judge what is appropriate and safe for your child. No information provided by Gympanzees should replace any professional information and advice that you have been given and speak to your therapist or doctor if you are unsure of anything. Should you use any of the information provided by Gympanzees, you do so at your own risk and hold Gympanzees harmless from any and all losses, liabilities, injuries or damages resulting from any and all claims.