20 Games and Sports to get Your Child Moving in Their Wheelchair
Exercise is beneficial to everyone's general health – it helps with cardiovascular health, prevents things like stroke and heart disease, is great for self-esteem, releases endorphins so is good for mental health, helps your body manage blood sugar and insulin levels and also helps control weight.  
Moving their whole body can help a child in their physical and cognitive development. Moving the whole body improves strength, stamina, endurance, stability and mobility.  Cognitive skills which are developed include motor planning, problem solving and bilateral integration (using the 2 sides of the body and brain together).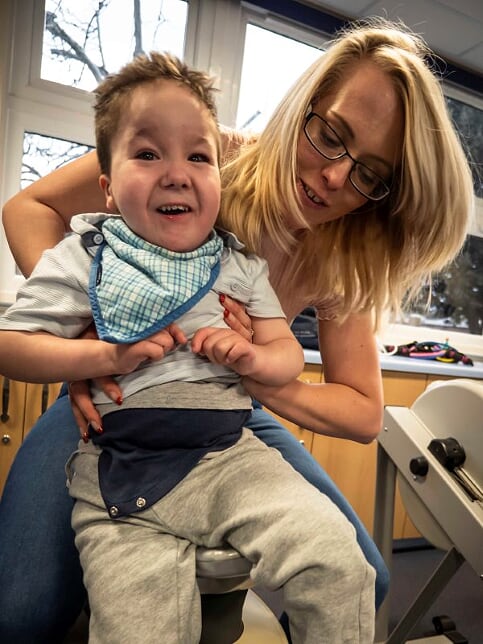 Improves strength which leads to better gross motor skills and more independent living 

Improves sleep which is very often a problem with those with physical difficulties 

Reduces constipation – as the body moves the muscles in the stomach contracts and helps move stomach contents to help with painful trapped wind and constipation 

Protects joints by increasing muscle strength which takes pressure off joints. 80% of 21 yr olds with Cerebral Palsy have chronic pain in their joints so exercise at a younger age can help reduce the pain and maintain or increase their function in the future. 

The pull of muscles and weight bearing both increase bone density – reducing the risk of fractures 

Exercise can help to maintain or increase muscle length through active stretch – keeping ranges of motion in the joints and enabling better gross motor skills and thus improved function and independence. 

Exercise can reduce fatigue and improve exercise tolerance, so improving function and independence in every day tasks.  
Here we have put together a list of our favourite exercises and activities for wheelchair users.
This is a fantastic game and involves playing in teams and getting your team's ball nearest to a target ball. It can be played with as few as 2 people and you can play from your wheelchair. If you don't have balls, use rolled up socks.
This is a great copy game. One person does an action and the other person has to copy them. This is a great way to convince your child to do any action you want from them!

Alternatively ask them to lead the game and see where their imagination takes you.

If your child would struggle with this concept, try copying everything they do. If they move their arm, you move your arm the same etc. They may start moving just to make you move. There is a similar technique called intensive interaction for communication and you could try both together to see if your child will move and make sounds. To find out more about intensive interaction see this series dedicated to it. 
19. Exercise Time with Kris
This series by Bristol Bears is wonderful to move along to. Join in with as much as you can and help your child to move where possible. They have a different theme each day – Wednesday is exercise but the other days may be better for your child so check out the playlist on YouTube. 
These videos are aimed for the child using Makaton and simple instructions. If your child can't manage on their own then help them to move. A new video will be released for exercise every Wednesday but the whole series is great for our Butterflies.
Take photos of objects on your phone or tablet or print out the photos. 

Start by having a couple of objects on their tray and showing a photo of 1 of them and see if they can match it to the item.

If they are able to match objects, put the object further away (within their visual range).

Show the child 1 photo at a time and they need to find it in the room/ home.

If your child can't wheel themselves or move on the floor, see if they can guide you to find the object with pointing and other forms of communication.

Make sure the objects are very desirable to keep your child engaged (e.g. food or a phone/tablet).
Thank you for visiting Gympanzees' website. All information provided by Gympanzees is of general nature and for educational / entertainment purposes. It is up to you as the parent or family member to judge what is appropriate and safe for your child. No information provided by Gympanzees should replace any professional information and advice that you have been given and speak to your therapist or doctor if you are unsure of anything. Should you use any of the information provided by Gympanzees, you do so at your own risk and hold Gympanzees harmless from any and all losses, liabilities, injuries or damages resulting from any and all claims.