Following a visit to Gympanzees Roadshow we invited Bristol based blogger and author of Cameron's Smile, Carla Golledge to write a guest blog about their experience.
Raising a disabled child can feel so isolating at the best of times – it can feel like everywhere you visit are not willing to accommodate your families needs.
Mainstream soft plays, parks and centres don't always have equipment your child can access alongside their siblings. There have been so many times we have left activities early. The upset and hurt that causes, stay with you for such a long time afterwards.
It was a feeling of relief to see Gympanzees offering a Roadshow this summer, after a pretty rough and intense lockdown, losing access to all of the things my disabled child loves. Being deaf and blind, Cameron didn't understand why the world was changing, but now restrictions are easing he is able to regain some of the happiness he once lost.
And this leisure centre certainly brings so much happiness. Somewhere I can visit with Cameron and his siblings. Playing alongside others in similar situations. Feeling included and cared about – that is all anybody wants for their child.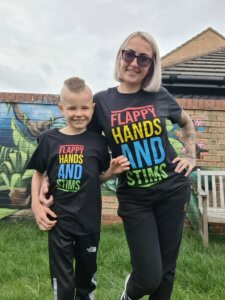 It feels so great to watch Cam accessing swings, hammocks, bodyboards and all of the sensory seeking equipment he longs for – helping him to feel regulated and calm.
I can sit and watch Cam and his siblings enjoy the sensory room together, whilst he feels the vibrations of the massaging mat against his back, enjoying the back and forth motion of the rocking chair, whilst his younger sister appreciates the flashing lights inside the dark tent.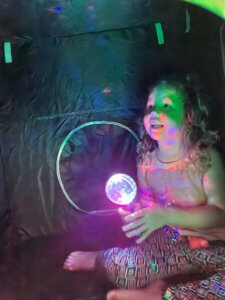 I can hear laughing and giggles all around – children running around without a care in the world, whilst friendly members of staff help children to play and the parents get to share experiences with one another.
It doesn't matter if my child stims joyfully, makes noises or moves around in a way society doesn't deem 'normal', if he becomes overwhelmed or upset – there is no judgement, stares or tuts of disapproval, just a feeling of acceptance.
Changing facilities can be another huge barrier to accessing activities my child loves, he deserves so much more than to be changed on a wet dirty bathroom floor. Gympanzees can offer that. Hoists, changing beds and all the basic needs our disabled children deserve. Why can't more places promote inclusion this way?
My children were so content visiting the roadshow they didn't want to leave. I'm pretty sure they will be very familiar faces amongst the members of staff once a permanent base is secured – because having regular access to an inclusive leisure centre would be life-changing.
Stay up to date with all things Cameron's Smile on their Facebook Page 
Find out more about Gympanzees Roadshow here