Therapy Ideas to help children with Athetosis and Dystonia
Watch our Zoom Webinar with Gympanzees CEO and Founder and Physiotherapist Stephanie Wheen.
If your child has a neurodevelopmental condition, extends back with their whole body or their limbs always on the move then this webinar could be useful for you!
This webinar will explain why your child moves the way they do and how you can help them with their movement and gross motor skills at home.
This webinar will be most useful to families with children of 18 months and older, those with a diagnosis of dystonia/dyskenesia/fluctuating tone or athetosis.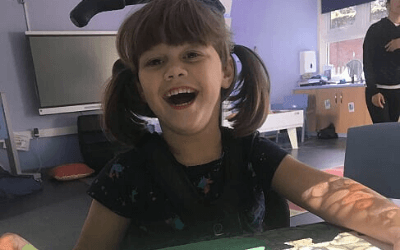 Athetosis and Dystonia in Children - Therapy Tips and Information for you to try at Home
"The therapist was very warm and friendly and I quickly felt a safe space to discuss what can be difficult issues. The session was also clear and comprehensive plus a personalised approach with suggestions we can put into action immediately."
Stephanie is a physiotherapist with 18 years experience of working with children and young people with disabilities. She has also has a brother with a disability so knows the disability world as well as child health and how to help these children through exercise. She is specialised in working with children with Cerebral Palsy having done extensive post grad training in Cerebral Palsy and in Sensory Integration. She has been running her successful physio practice, Wheen Physio for Children, in Bristol since 2012 and founded Gympanzees in 2016 to meet the growing demand for therapy and exercise in the community.
Thank you for visiting Gympanzees' website. All information provided by Gympanzees is of general nature and for educational / entertainment purposes. It is up to you as the parent or family member to judge what is appropriate and safe for your child. No information provided by Gympanzees should replace any professional information and advice that you have been given and speak to your therapist or doctor if you are unsure of anything. Should you use any of the information provided by Gympanzees, you do so at your own risk and hold Gympanzees harmless from any and all losses, liabilities, injuries or damages resulting from any and all claims.