23 Games for Walking Children to Develop Gross Motor Skills and Stay Active at Home
Exercise is really important for health and wellbeing. It maintains cardiovascular health (preventing conditions like stroke and heart disease), boosts mental health and self-esteem, and assists our bodies in managing blood sugar and insulin levels, which can help with weight control. 
Exercise also has developmental benefits for children and young people. Physically, moving the whole body improves strength, stamina, endurance, stability and mobility.  Cognitive skills boosted by movement include motor planning, problem solving and bilateral integration (using the two sides of the body and brain together). 
No matter what fitness level or physical abilities our child has, moving a little bit more than normal will help them get fitter and stronger. Any movement counts – it doesn't need to be traditional sport or exercise to have a big impact.
Below, we share lots of fun ideas for active games our children can play at home. If we have more than one child in the house these games can be played in a group; however we can also play 1-1 with our child, or they can practice the skills alone.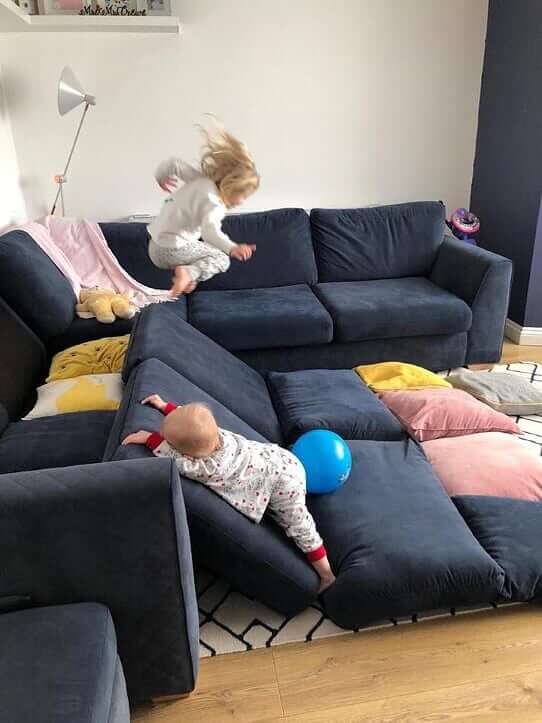 We all have a different level that we start from with exercise. These activities are in a sequence with the least challenging first. Find the level at which your child can comfortably have fun and make your way down the sequence as they get stronger, fitter and more coordinated.
As with all exercise, doing a little more than we are used to doing is the way to get fitter and stronger. If we do the same amount of effort every day we will not change our strength or fitness, so always try and progress the number of repetitions or tries that your child makes.
11 Fun Activities to Recreate at Home to Stay Active
Using balloons, crumpled paper or a pair of socks, you can make your ball sports more home-friendly. 
The activities are suitable for children who can walk.
6 Sports Day Games to Recreate at Home
Thank you for visiting Gympanzees' website. All information provided by Gympanzees is of general nature and for educational / entertainment purposes. It is up to you as the parent or family member to judge what is appropriate and safe for your child. No information provided by Gympanzees should replace any professional information and advice that you have been given and speak to your therapist or doctor if you are unsure of anything. Should you use any of the information provided by Gympanzees, you do so at your own risk and hold Gympanzees harmless from any and all losses, liabilities, injuries or damages resulting from any and all claims.