13 Balancing Exercises: From Sitting to Walking
The vast majority of children with Down Syndrome will walk between the ages of 18 months and 5 years old. The range in age here can be due to several factors: physical make up has an important effect – levels of strength, low tone (floppiness) and/or hypermobility (increased flexibility) vary between our children. Home environment, personal interests (some children are very visual and want to watch and play with toys, while others want to be very active), and the behaviour of family members (eg helpful siblings fetching things for our child) also play a part. 
No matter what age our child starts walking, they can still be physically active and adept as they grow. The key is to focus on HOW they walk. Formative years provide the building blocks for skills later in life so getting the foundations right when they are young gives our children a better chance of mastering higher level activities such as running, jumping and playing sports in the future. Development is not time dependent – a late walker can still learn the skills needed for success. 
It is worth noting that children often compensate for low tone, hypermobility and weakness by 'hanging' on their joints. For example, they may stand with an arched spine and their tummies sticking out, or with their knees locked and pushed all the way back. While these are clever ways to gain stability when standing, they can cause problems in the long-term as they don't allow the tummy or leg muscles to work optimally.
Below are a number of balancing and mobility exercises that will give our child great foundations for movement by using all their muscles in the best way possible way.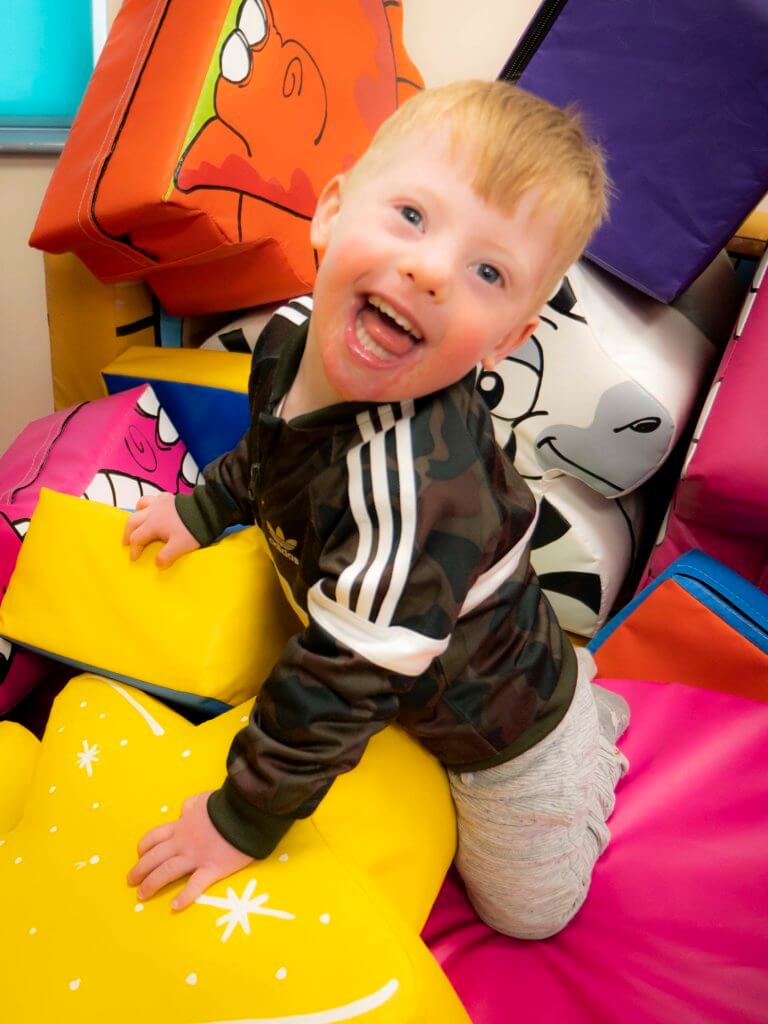 Use this sequence to help your child progress coordination and balance in their legs. They may start at the beginning or half way down – wherever they can be successful in their attempts but still be challenged. If your child is not ready to attempt a certain activity, look at those either before or after which may suit them better. 

Think about what toy your child can use while they do their activity. Often a watching activity will allow them to balance better (e.g. reading, watching a tablet or TV). Toys that require them to play with their hands will challenge their balance more (posting games, playing musical instruments or playing games on a tablet). Games with many pieces are great for encouraging movement and repetition of the exercise (e.g. throwing a bunch of beanbags or balls, rolling many toy cars, playing shopping with lots of pretend food.)
Before trying these exercises and activities, take a minute to prepare your child. If their legs are tight then stretch the muscles before you try these activities to ensure the most effective movement. To wake up their muscles it can be a good idea to squeeze their legs and feet. You could also use a brush along their skin, or a vibrating massager to give them lots of stimulation. All of these can help to make your child more aware of their legs which can then help them be more accurate and use their legs more effectively. 

Make sure your child is successful in their activity as this will motivate them to continue. As you push them to get to the next level, they should be able to manage a few of their attempts to keep motivated – even if they are not successful every time. Moving on to activities before a child is ready may dishearten them and they may well get upset and resist.
Children with Down Syndrome can lose their drive to persevere in their tasks as they generally receive so much praise for every small progression they make. Remember to praise the effort made rather than the result achieved, to motivate your child to keep putting in effort and not be put off if they don't succeed at first. 
Here we have put together a list of excellent activities and exercises to improve your child's balance and leg coordination
Thank you for visiting Gympanzees' website. All information provided by Gympanzees is of general nature and for educational / entertainment purposes. It is up to you as the parent or family member to judge what is appropriate and safe for your child. No information provided by Gympanzees should replace any professional information and advice that you have been given and speak to your therapist or doctor if you are unsure of anything. Should you use any of the information provided by Gympanzees, you do so at your own risk and hold Gympanzees harmless from any and all losses, liabilities, injuries or damages resulting from any and all claims.