Whole Body / Gross Motor Skill Exercises for children with all abilities and disabilities.
This page is suitable for our Jungles; children and young people with any disabilities and abilities.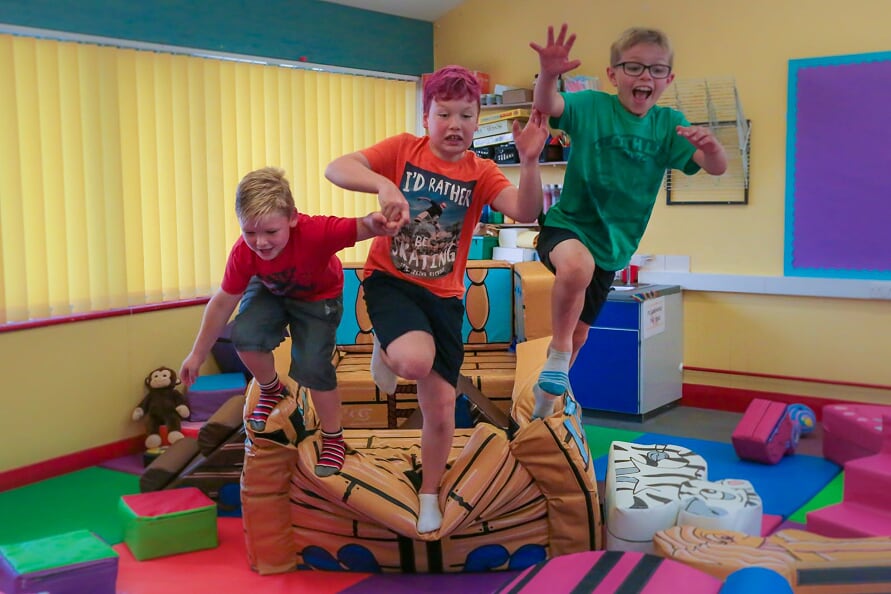 Moving their whole body can help a child in their physical and cognitive development.

Moving the whole body improves strength, stamina, endurance, stability and mobility.

Cognitive skills which are developed include motor planning, problem solving, bilateral integration (using the 2 sides of the body and brain together).

If your child doesn't have full mobility, exercise helps to strengthen and stretch muscles, improve endurance and heart and lung fitness and help with gross motor skill development.

For those with Autism, exercise can result in marked improvements to numerous behavioural outcomes including improved social and communication skills,  stereotypical behaviours, social-emotional functioning, cognition and attention. 

Those with ADHD can experience the following benefits: ease stress and anxiety, improve impulse control and reduce compulsive behaviour, enhance working memory, improve executive function – that's the set of skills required to plan, organise and remember details. 

Most of all there are loads of opportunities for fun while your child stays active. 
We all have a different level that we start from with exercise, so it may be that your child gets a good workout just by moving their head or their arms so start from their level.

As with all exercise, doing a little more than they are used to doing is the way to get fitter and stronger. If we do the same every day we will not change our strength or fitness so always try and progress the number of repetitions or tries that your child makes.

See our sections on proprioception activities, vestibular activities and calming activities (coming soon) for more specific exercises to help your child with sensory processing difficulties. 
Here are some gross motor skills and whole body exercises, games and activities you can do at home to keep your child active.
Using balloons, crumpled paper or a pair of socks to make your ball sports more home friendly. 
Here are a selection of suitable Our Home videos for Jungle
This obstacle course is suitable for those children who can crawl along the floor, this includes younger children with Down Syndrome. 
This video is suitable for mobile children. You can create the laser string quest anywhere in your home and make it as big or small or as easy as you like!
The scavenger hunt is really simple and easy to set up. It can be adapted to suit any disability and household.
Silly Socks and a bit of Boccia
Lucy Lost-it has created some fun easy to set up games. All you need are some socks!
Stealthy Ways for Handwashing
This video contains tips on how to 'stealth handwash' whilst still having fun with various kitchen or household props. And also how to pimp up our liquid pumps to make it more fun for children.
More fun resources for Jungle
Thank you for visiting Gympanzees' website. All information provided by Gympanzees is of general nature and for educational / entertainment purposes. It is up to you as the parent or family member to judge what is appropriate and safe for your child. No information provided by Gympanzees should replace any professional information and advice that you have been given and speak to your therapist or doctor if you are unsure of anything. Should you use any of the information provided by Gympanzees, you do so at your own risk and hold Gympanzees harmless from any and all losses, liabilities, injuries or damages resulting from any and all claims.