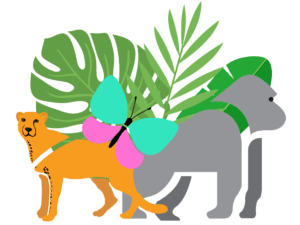 We are offering four types of sessions at the Roadshow – Jungle, Leopards, Gorillas and Butterflies.
Jungle, Leopards and Gorillas sessions have two
age groups to choose from 0-11 years and 11-25 years and are 90 minutes long. Our butterflies sessions are slightly different, they are two hours long to give the extra time needed for possible hoisting, medical needs, and toileting and are ages 0-25.
This is a smaller event than our usual pop ups and has less space and equipment. The 0-11 categories are suitable for all, however the 11-25 are more suitable for those with learning difficulties or more involved sensory needs. 

Watch the short videos to decide which session type is most suitable for your child. We appreciate you know best, so please choose your session with care and bring the appropriate amount of support on the day to ensure everyone is safe and enjoys the facilities.
Once you've decided simply book and await your confirmation email.
I'd like some advise on which session is best for my child
If you'd like more information on which session is suitable for you please contact info@gympanzees.org or call 07831844436
Roadshow Session Prices
£4 per child/young person – including siblings
£2 concessions, per child/young person – including siblings
Concessions
We want Gympanzees to be accessible for all children/young people to enjoy. If you receive any of the following means-tested benefits you are eligible for our concession price;
Income-based Jobseeker's Allowance
Income-related Employment and Support Allowance
Income support
NHS Tax Credit Exemption certificate
Universal Credit – not if this is purely for disability benefit
Please note this is only for low income families and you will need bring to the event your proof of support.
If transport or cost of sessions are stopping you or someone you know from booking a space at The Gympanzees Roadshow, please contact us on the email below to discuss our fee waiver.
Waiver
Please note parents and carers are responsible for all their children and young people. Staff are here to give a helping hand and ensure safety but can not look after your disabled child or young person or your other children. You will be required to read and agree to our waiver before completing your booking.
Trouble booking or unable to get a space?
Please contact us on info@gympanzees.org or 07495 567 731 with your query and/or leave your phone number for us to call back if you are experiencing any problems with the booking system. If the session you want to join is fully booked then email us and we will add you to a waiting list, should a space become available you will be contacted. It is really helpful for us to know if you have been unable to book the session you were hoping for, so we can make the right adjustments to future  sessions.
Please note our office number 07495 567 731 is manned between 8.30-4.30pm Monday to Friday.
After you have booked
You will be sent a confirmation email with full details of the session(s) you have booked. Then 24 hours before each individual session you will be sent a reminder email.
Cancellation
If you wish to cancel a session, please do so as early as possible. We will refund any cancellations made more than 48 hours in advance of the session taking place. No refunds are given for cancellations within 48 hours of the session taking place.