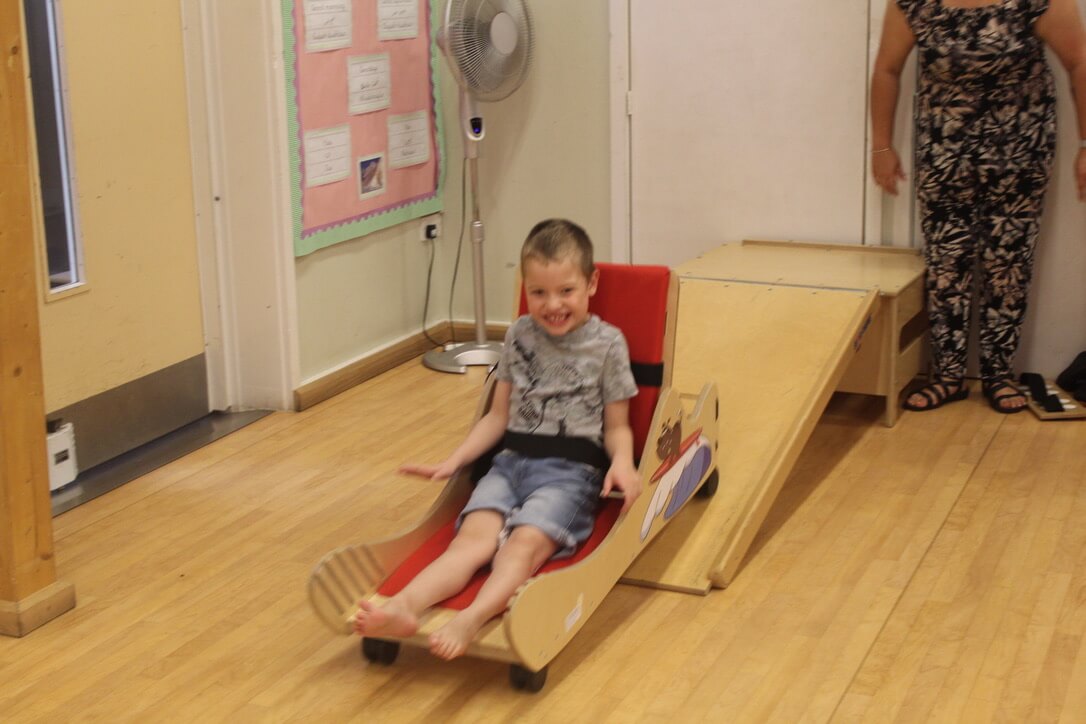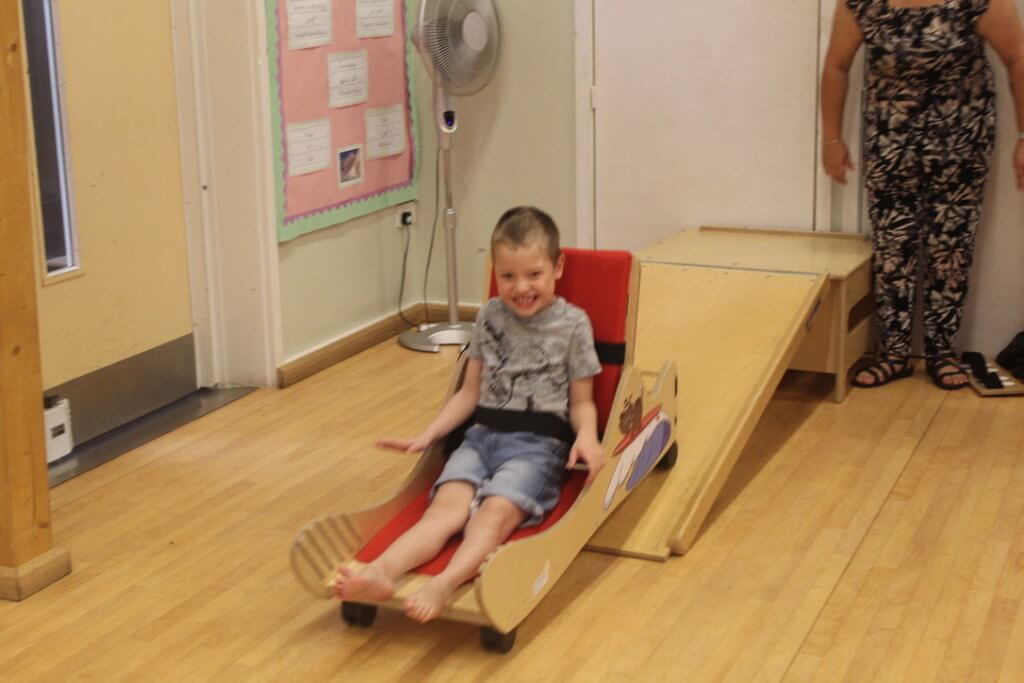 An innovative new piece of equipment has been a huge success with disabled children and their families, across Bristol and the Southwest this summer. Families attending the Roadshow, will have come across this new item which was designed specifically for Gympanzees. The cart which was recently named the 'Super Surfer' by families was developed through a collaboration with the charity Cerebra, a charity that designs and builds innovative, bespoke products to help disabled children discover and engage with the world around them.
The goal was to make a cart and ramp that would accommodate all disabilities. There would be straps to hold anyone with limited movement, it would cater to a range of sizes and would be equipped to hold medical equipment safely, such as food pumps and ventilators.
Dr Ross Head, Cerebra Innovation Centre Design Manager, who helped spearhead the design said

"I was first introduced to Stephanie Wheen, CEO of Gympanzees, through contacts who suggested we might have lots in common. They were right, I had an amazing chat with Steph about her plans and how we might be able to help. They asked if we could come up with a new idea for the little cart that shoots down slopes and we were more than happy to accommodate."
This is the first piece of bespoke kit that has been created for Gympanzees.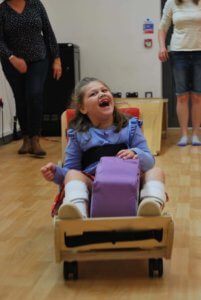 Gympanzees CEO and Founder Stephanie Wheen said

"We were beyond thrilled to work with Cerebra on this innovative new piece of equipment. Speed and adrenaline are part of all our lives, just because you have a disability does not mean the 'need for speed' isn't there. A lot of the children who come to us don't get a lot of movement, particularly wheelchair users who are usually going slow wherever they go. We asked Cerebra to help us make a piece of kit that would allow our children and young people to feel free, whilst also feeling safe."

"We've had families asking where they can buy the kit themselves, we've also seen children who look like they aren't really taking in the world around them burst into massive smiles when they've used the surfer. It's had a massive impact."
The Gympanzees Roadshow has seen over 500 young visitors over the summer, across 5 different locations. The 'Super Surfer' was a particular highlight for many families. One parent of a 5-year-old who is autistic said "It's amazing, my son is such an adrenaline seeker, and this is perfect for him. It took him a while to suss it out and feel comfortable but now I can't get him off it!".
Gympanzees are continuing working towards our main goal – to open the UK's first dedicated play, exercise and social inclusion destination for children and young people with disabilities and their families. A complex designed to suit their needs 364 days a year. As we move forward with this goal, we hope to continue creating innovative items and equipment, with the help and support of brilliant organisations such as Cerebra.