The Move it My Way Challenge is fully inclusive and is something that individuals or the whole family can get involved with! It's a great way to stay active with a challenge that is big or small!
Move It My Way is one of our major fundraising events of the year. The idea is simple – you choose a challenge or activity that interests you and do it your way! Dance, bounce, walk, cycle, run – it doesn't matter – just set yourself a challenge to complete and get moving! It's about having fun, being active in any way that you want, whilst raising some much-needed funds for Gympanzees. 
Move It My Way is more important than ever before
Our income from traditional fundraising has all but dried up, yet families need our support more than ever.  
Move It My Way is raising funds that will help Gympanzees deliver project Our Home which is providing support to 1000s of children and young people with disabilities and their families, helping them stay active at home. Through an online hub of information, therapist lead Zoom sessions and an equipment lending library- Gympanzees is taking inclusive fun into families homes to help them play and exercise with a therapeutic twist so that children receive health and wellbeing benefits – all while having a great time.
£20 would buy a physio ball for out Lending Library
£50 would buy a vibrating mat for families to borrow
£100 would provide a sensory box for a family
£500 would allow us to set up our Lending Library online booking system
£1,000 helps fund a therapist for a month to provide Zoom education sessions for families.
Here are some ideas, which will depend on your own abilities, but please come up with your own and be as creative as you want!
Complete a singathon/ makatonathon/ danceathon/ drumathon! How long can you keep it up for?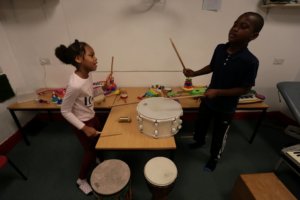 All wheels welcome Cycle challenge – using one, two or four wheels!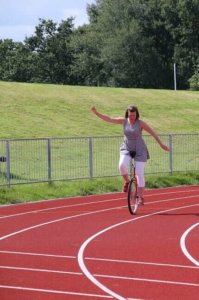 Trampolining – How many sit drops, how many tuck jumps, how long can you go for? Do it in relay with your household!


Something for the whole family to get involved with! You could even get some matching tops made like Team Carmela!
Have fun with your wheelchair: Wheel backwards, chair pushups, up and down stairs, cruising around furniture, sit to stand to sits.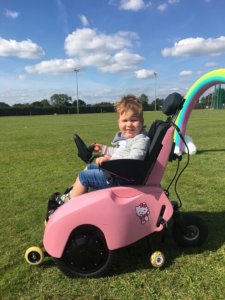 Walking, running with walking aid – frame/ sticks (choose your own distance each day) – last year we watched some incredible achievements that children had never completed before including a 100m unaided walk.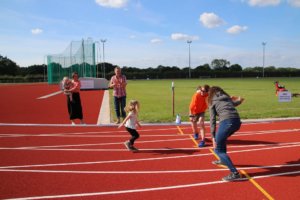 Running/walking challenge (100m, 1000m, 5k, 10k or maybe a half or full marathon).

Daily 5k for a month (walk or run) – a great way to get outside and enjoy the sunshine!

Set up an assault course – How many laps can you do on your hands and knees or crab walking?

Sponsored

trike ride.
All funds raised will help provide support and equipment for children and young people with disabilities and their families to stay active at home.
Sign up costs £5 and you can sign up here.
Sign up closes 30th June and you must have completed your activity or challenge by the end of July.
If you would like to raise sponsorship and fundraise for your Move It My Way challenge, you can set up your 'Just Giving' page here.
After you have taken part in your challenge, email us a photo and tell us about your challenge to get your Move It My Way medal! If you post on social media don't forget to use the #MoveItMyWay hashtag so we can see them!